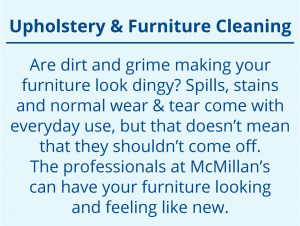 McMillan's highly skilled technicians specialize in restoring upholstery to it's original luster. Our technicians are trained and certified to clean all types of fabrics and upholstery (Synthetic, microfiber, wool, jacquard, silk, and blended materials).
We pre-treat all stains and then apply a cleaning solution that lifts dirt and oil to the surface of the upholstery fibers. Then with our hot water steam extraction process, we remove the dirt and oil from the fabric and lift all the stains away.
We clean all sizes of upholstery from dining room cushions to large sectionals.
Our cleaning process does not harm natural or synthetic fibers.
Our quick drying upholstery cleaning process not only deep cleans but will be dry in 4 to 6 hours
McMillan's can apply a Teflon based fabric protectant that will repel oil and water based stains and spill
McMillan's highly trained technicians have the equipment to clean every type of upholstery and furniture. Your upholstery and furniture needs expert care to extend it's life and revitalize it's beauty. We are committed to providing our customer with the highest quality cleaning experience and will go the extra mile to make sure you are completely satisfied.